Standing for a long time on a hard floor of the kitchen causes fatigue. The problem of fatigue is very common in females when they have to prepare a variety of food for their guests by standing on their feet for hours. 
To Save the knee, feet, and back from being in a lot of pain, the anti fatigue mats play an important role.
They reduce the stress of standing for a long period and decrease fatigue.
Best Anti Fatigue Kitchen Mats
| | | | |
| --- | --- | --- | --- |
| Best Deal | | HappyTrends Anti Fatigue Mat | |
| Reduce Pain | | LuxStep Kitchen Mat Runner | |
| Top Pick | | Villsure Washable Kitchen Rugs | |
| Best New | | IMYOTH Non slip Kitchen Rug | |
Use anti fatigue mat while cooking, washing dishes, or chopping veggies. They are so soft and a lifesaver to the feet and legs.
We will talk about the best Anti Fatigue Kitchen Mats of 2021 in this article. Our article is for People who are in search of comfy mats.
1. HappyTrends Anti Fatigue Mat
Brand – HAPPYTRENDS | Colour – Black | Waterproof – Yes | Size Available – 17.3″x 28″/17.3″x 39″/17.3″x 59.8″ | Set of 2 Mats | Thickness – 0.47 inch | Mat Material – PVC | Weight – 2.07 pounds
HAPPYTRENDS anti fatigue mats are ergonomically designed for comfort.

Cushioned support help improve circulation and posture.

The PVC material repels water, liquids, oils, or stains.

Nonslip PVC Bottom to protect from slippage and tripping.

PVC material is phthalate-free, latex-free, and odor-free.

A rug or anti fatigue mat must be placed on a dry surface during use.
Our Thoughts
The HappyTrends anti fatigue mat provides good support to the feet. They are like a pillow to the feet and feel very soft.
The PVC material makes these mats durable. If something breakable fell on these mats it is not going to break. 
They are purely water-resistant and can be used anywhere in the house even in the bathroom. Dirt will not stick in the mat and they are very easy to clean as well.
Overall the Happytrends anti fatigue mat is a quality product and is like a heaven to stand on while cooking and baking.
2.
LuxStep Kitchen Mat Runner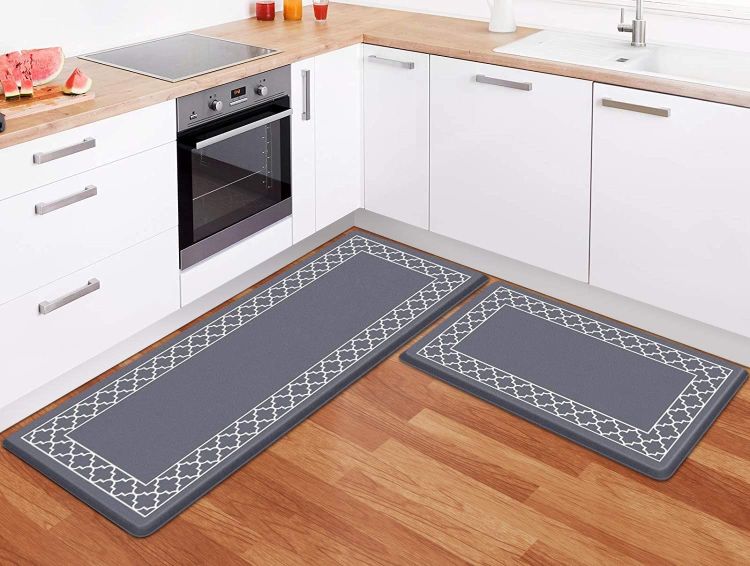 Brand – LUXSTEP | Colour – Grey/Chocolate | Waterproof – Yes | Size Available – 17.3″x 28″/17.3″x 47″ | Thickness – 0.47 inch | Set of 2 Mats| Mat Material – PVC | Weight – 5.39 pounds
LUXSTEP Kitchen mat runner is safer and more comfortable.

Relieve back pain, the pressure of your knees, and the fatigue of your feet.

If dirty just rinse it off with cold water or wipe clean with a wet cloth.

The kitchen mat runner has an excellent grip to stand safely.

The floor should be clean, flat, and dry before placing the mat.
Our Thoughts
LUXSTEP Kitchen mat runners are Premium mats in the market. Helps to tackle back pain, knee pain, and foot pain caused by uncomfortable postures.
In case of any spillage just wipe it off with a wet cloth for the daily purpose to use it for the long run.
The bottom of the mat grips the floor very well means it will not slip at all. Not just in the kitchen, use them in the bathroom, office, under a sink, or anywhere. 
The LUXSTEP Kitchen mat runner is what every lady should have in the kitchen. Simply a 5-star cushion mat.
ALSO READ – Best Robot Vacuum And Mop Cleaner
3.
Villsure Washable Kitchen Rugs
Brand – VILLSURE | Colour – Grey/Black/Beige | Waterproof – Yes | Size Available – 17.3″x 29″/17.3″x 47″/17.3″x 59″ | Thickness – 0.39 inch | Mat Material – PVC | Weight – 2.25 pounds
VillSure Mats relieve pressure for your feet, knees, lower back, and joints.

Use these washable kitchen rugs for multiple surfaces(wood, ceramic, marble, etc).

The waterproof surface ensures long-term durability.

The top surface of the anti-fatigue gel mat is made of artificial leather.

Do pay attention to the thickness of the mat before ordering.
Our Thoughts
To tackle the fatigue problem, the washable kitchen rugs of the VillSure Brand Stand very well in the competition. These mats are Anti-oil, anti-break, Scratch resistant, Dustproof, and Non-Slip.
Use it to do multiple things. They will not only provide comfort but will also enhance the looks of the kitchen. Pick the color of mats accordingly that will suit your kitchen.
Overall the VillSure washable kitchen rugs are worth buying as they are like a massager to the feet.
4.
IMYOTH Non Slip Kitchen Rug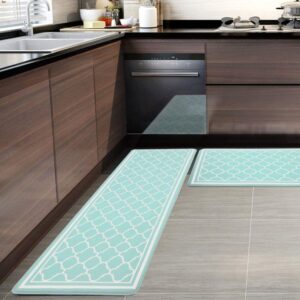 Brand – IMYOTH | Colour – Bohe Blue/Eat Laugh Brown/Rohmbus Blue/Rohmbus Grey | Waterproof – Yes | Size Available – 17.3″x 28″/17.3″x 47″ |  Thickness – 0.40 inch | Mat Material – PVC | Weight -4.75 pounds
The non slip kitchen rug works on marble, wood, laminate, or any type of flooring.

A beautiful surface pattern design will provide a warm and bright accent for any home.

PVC foam underside helps keep the kitchen rug set stay in place.

The anti-fatigue mat provides an extra-large area for standing.

The mats are perfect for commercial use in areas such as hair salons, restaurants.
Our Thoughts
The non slip kitchen rugs of the IMYOTH brand are well-made mats. These large rectangular shape mats provides enough space for more than two ladies to stand on it while cooking.
It comes in 4 different colors and with a unique geometric pattern. No need to bear a lot of pain in the feet after washing dishes every night when IMYOTH non slip kitchen rug is there to help.
Make a move to purchase it and feel the difference. These mats are going to lift the pressure off the feet.
Overall a must-buy rug for daily kitchen tasks.
HappyTrends vs VillSure vs IMYOTH vs LuxStep Kitchen Mats
THICKNESS : Have a look at the thickness once before purchasing any mat. Both HappyTrends and Luxstep kitchen mat runners are 0.47 inches thick.
Whereas IMYOTH kitchen rug is 0.40 inches thick and VillSure washable kitchen rugs are 0.39 inches thick. Thick or slim? Pick according to your need.
SIZE : HappyTrends and VillSure anti fatigue kitchen mats comes in 3 different sizes. Whereas IMYOTH and Luxstep washable kitchen rugs are available in 2 different sizes.
For Bigger sized mats please go for HappyTrends and VillSure brand kitchen mats.
Please note that no matter what the size is, the shape of kitchen mats is rectangular.
Final Thoughts
No matter which one you choose, these 4 anti fatigue kitchen mats are unique in their own way. They all are comfortable and soft. Very beneficial to the body and health.
If the lady in your house is putting a lot of effort to cook delicious meals for you guys while standing for so many hours. Then it is your duty to make sure that she doesn't feel fatigued.
So Why wait? Make a move and select the best anti fatigue mat for a superwoman of your home.