"This article contains affiliate links, which means we may earn a small commission if a reader clicks through and makes a purchase"
Like any kids' motorcycle, The HYPER GOGO Cruiser is designed with smaller frame and lower seat height to accommodate the shorter stature of children. But it is not fit for kids below 8 years of age.
Hyper GOGO cruiser 12 Plus is recommended to be used for 12 or 12 plus age kids. But we think it is the best kids' bike for 8- to 13-year-olds.
It comes with one size with 4 color options to accommodate kids who are still developing their riding skills.
The HYPER GOGO Cruiser 12 Plus – The Ultimate Ride for Kids | Check Price
| | |
| --- | --- |
| Dimensions | 45.3 x 19.6 x 28.5 inches |
| Weight Capacity | 145 Lbs |
| Range | 7.5 Miles |
| Max Speed | 10 MPH |
| Tire Size | 12″ x 3″ |
| Color Options | Blue, Orange, Black, Green |
The HYPER GOGO CRUISER 12 PLUS is a battery-powered motorized vehicle for kids. There's no need for fuel, oil changes, or complex engine maintenance. Regularly checking the battery and ensuring it is charged is the primary maintenance concern.
The HYPER GOGO motorcycle is suitable for any surface (All Terrains). But better surface for riding are smooth surfaces such as sidewalks, driveways, or designated riding areas. Parents must ensure that the chosen riding area is free from potential hazards and traffic.
Here are the important features of HYPER GOGO 12 Bike. Take a look at them before buying the bike for your child.
1. Adjustable Speed Settings
Cruiser 12 Plus comes with adjustable speed settings. It has 3 speed Modes. The lower speed mode is for learning bike riding and the higher speed modes are for fun riding experience.
With this feature parents can control the speed of the motorcycle based on the child's skill level and confidence.
2. Powerful 24V 160W Motor and 10MPH Max Speed
Beneath the sleek exterior lies a powerful 24V 160W motor, propelling the Cruiser 12 Plus to a maximum speed of 10MPH. It's a perfect blend of thrill and control, ensuring an exhilarating yet safe ride.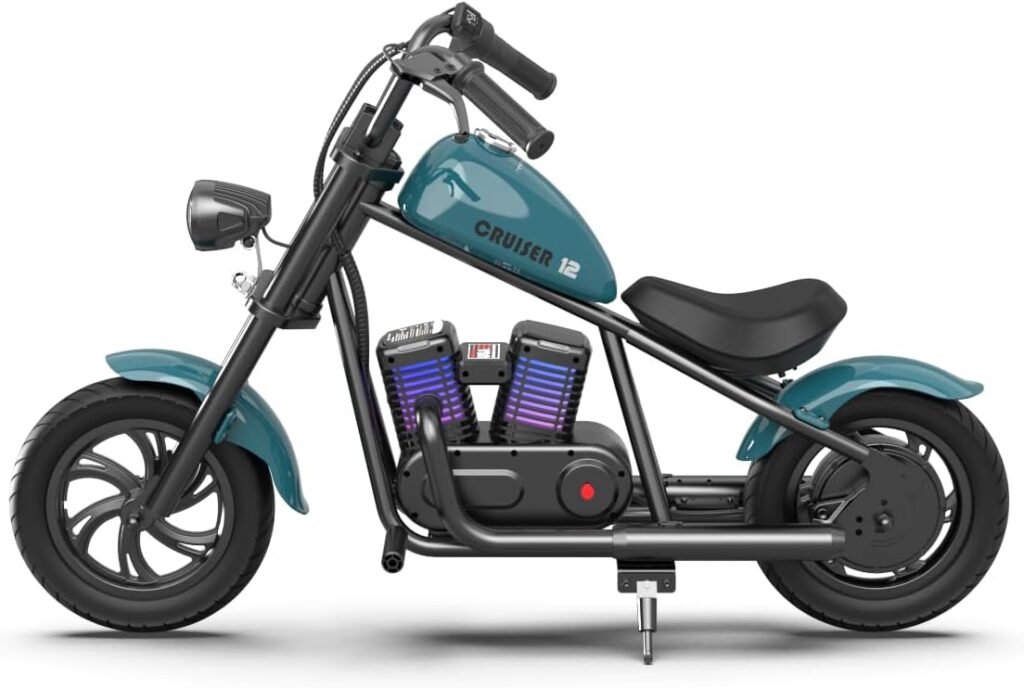 3. Dimensions, Weight, and Water Resistance
Compact yet sturdy, the HYPER GOGO Cruiser 12 Plus boasts dimensions of 45.3 x 19.6 x 28.5 inches and a manageable weight of 33lbs. Its IP4 water resistance rating ensures that a little drizzle won't dampen the spirits of the young riders.
4. Li-ion Battery and Range
The heart of any electric vehicle, the HYPER GOGO Cruiser 12 houses a Li-ion 21.9V 5.2A battery. Paired with a DC24V 1.5A charger, it offers a range of 7.5 miles on a single charge, ensuring a fulfilling riding experience.
5. Sturdy Alloy Steel Frame and Suspensions
Crafted with precision, the HYPER GOGO 12 boasts an alloy steel frame. This choice of material strikes a balance between durability and agility, providing a robust foundation for young riders to embark on their adventures.
Complemented by front and rear suspension, the motorcycle absorbs shocks and bumps, guaranteeing a smooth and comfortable ride on various terrains.
6. Impressive Uphill Capability of 10°
One standout feature of the HYPER GOGO Cruiser is its impressive uphill capability of 10 degrees. This means young riders can confidently tackle inclines, expanding their exploration horizons and fostering a sense of accomplishment.
7. Musical Adventures with Bluetooth Beats
Adding a touch of entertainment to the ride, the Cruiser 12 is equipped with a Bluetooth speaker. Young riders can now enjoy their favorite tunes while cruising, transforming each journey into a musical adventure.
8. Disc Brakes and 145 Pounds Weight Capacity
Safety reaches new heights with disc brakes providing precise stopping power. Additionally, the HYPER GOGO Cruiser 12 accommodates a weight capacity of 145 pounds, making it suitable for a range of riders within the specified age group.
9. Maintenance-Free Excellence
For parents seeking a hassle-free experience, the HYPER GOGO Cruiser is a maintenance-free delight. The metal frame ensures durability, while the plastic extras contribute to a lightweight design, making upkeep a breeze.
10. All-Terrain Dominance with 12″ x 3″ Tires
Versatility takes center stage with the Cruiser 12 Plus's 12″ x 3″ all-terrain tires. Whether navigating paved sidewalks or exploring off-road paths, these tires provide optimal traction for a thrilling and secure ride.
Safety Tips
It is highly recommended to purchase additional safety accessories of HYPER GOGO Cruiser. Helmets, gloves, knee pads, and elbow pads contribute to a secure riding experience, ensuring young adventurers are well-protected.
The cruiser 12 is embedded with safety features such as disc braking system, low speed mode, 2 rear wheel attachments for bike stability, and sturdy construction. These features contribute to a safer riding experience for young users.
Parents Duty
Parents duty is to Provide basic training and education on safe riding practices. Teach children the importance of following traffic rules, being aware of their surroundings, and understanding how to operate a motorcycle safely.
Adult supervision is crucial, especially for younger or less experienced riders. Parents should actively supervise their children while they are riding an electric motorcycle, especially in areas where there might be other vehicles or obstacles.
A Perfect Birthday Gift
The HYPER GOGO Cruiser stands as an enticing option, promising endless hours of excitement and joy. It is a perfect birthday present for kids.
Can kids ride HYPER GOGO 12 electric motorcycle off-road?
HYPER GOGO Cruiser 12 is designed for light off-road use, with features like durable tires, disc brakes, and suspension systems.
Final Thoughts
In conclusion, the HYPER GOGO Cruiser 12 Plus is not merely a motorbike; it's a gateway to unparalleled adventures. With its blend of safety features, cutting-edge design, and a touch of entertainment, this electric marvel redefines the concept of riding for 8 to 13-year-olds.
The HYPER GOGO Cruiser doesn't just deliver a ride; it makes a statement. Its sleek design, complemented by the eye-catching Orange, Green, Blue, and Black color options, ensures that riders are not just on a vehicle but a fashion-forward expression of personal style.
This isn't just a ride; it's a vehicle for conquering new heights. Click here to buy.