"This article contains affiliate links, which means we may earn a small commission if a reader clicks through and makes a purchase"
Treadmills under $1500 are designed to cater to a wide range of fitness levels, from beginners to advanced athletes. They often feature customizable settings to accommodate different workout intensities.
They offer interactive training options, including compatibility with fitness apps, virtual coaching, offer advanced features such as touchscreen displays, preset workout programs, heart rate monitoring, Bluetooth connectivity, and streaming services.
And one such high quality incline treadmill to invest in under $1500 is BowFlex BXT8J Treadmill. This Bowflex treadmill offers an array of features, user-friendly interfaces, and robust construction, making it ideal companion on your journey towards better health.
Best Treadmill Under $1500 With Incline- BowFlex BXT8J Treadmill | Check Price
| | |
| --- | --- |
| Side Arms | 15.75 inches |
| Speed | 12 MPH |
| Weight Capacity | 300 Lbs. |
| Power | 2.5 HP |
| Deck | 60″x 20″ |
| Incline | 15% |
BowFlex BXT8J is the best low impact treadmill with 15% incline and various other features. It comes with a 7″ LCD display, Media shelf, 26 built-in workout programs, and USB charging for a phone or tablet.
It is an extra long treadmill with 20 x 60 running surface and one of the best treadmills for 300 lbs. individuals with JRNY subscription program.
What we like
What we didn't like
What is the deck height of the BowFlex BXT8J treadmill?
The deck height of the BowFlex BXT8J treadmill is 16 inches without incline. And with the maximum incline (15%), the front end of the deck will go above 22 inches from the floor level.
Is the BowFlex BXT8J treadmill fits under 7 foot ceiling?
No, the BowFlex BXT8J treadmill is not a 7 foot ceiling treadmill. The minimum deck height of this treadmill is 16 inches, and if the user height is 6 foot (72 inches). The total height of the user will be 72 inches + 16 inches = 88 inches which is more than 7 foot (84 inches).
What buttons will you find on BXT8J BowFlex 20 x 60 treadmill control panel?
The panel of the treadmill has incline and speed buttons. You can change the speed and incline of the treadmill with an up and down arrow. Or you can directly pick speed from 2, 4, 5, 6, 8, 10, 12 buttons and then press enter.
In the same way you can pick the incline levels directly using the 0, 2, 5, 8, 10, 13, 15 buttons on the left side of the control panel.
Thankfully, this treadmill has pause and stop buttons along with the start button.
How does the BXT8J treadmill track the heart rate?
This 60 inch belt treadmill from BowFlex brand tracks your heart rate and shows it on the LCD display. All you need to do is to place both your palms on the handrails while walking or running and chest straps on your chest.
The handrails have built-in sensors to monitor the heart rate.
What are the key features of BXT8J Bowflex 20 x 60 treadmill?
Bowflex BXT8J treadmill typically offers features like adjustable incline, cushioned running surface, 20 resistance levels, Bluetooth connectivity, built in USB port at the back of the iPad holder, heart rate monitoring, water bottle holder on both the sides of the control panel, and soft drop compact folding design technology.
What functions can you use on BOWFLEX Treadmill on not purchasing JRNY subscription?
Bowflex treadmills come with a range of features that can be used without purchasing the JRNY subscription. Here are functions commonly available on BXT8J Bowflex treadmills without a JRNY subscription:
1. User Profiles
You can create user profiles to save your preferred settings and track your progress over time. You can create up to 4 profiles on BTX8J Treadmill.
2. Workout Metrics
You can view essential workout metrics like time, distance, speed, calories burned, and heart rate on the treadmill's 7″ LCD display.
3. Preset and custom Workouts:
A selection of built-in workouts is what you get without subscription and it also allows you to create your own custom workouts, specifying the desired duration, speed, and incline levels.
4. No Adaptive programs or valuable video or streaming content
The functions which will not be available without the JRNY subscription are streaming online entertainment platforms like Hulu, Netflix. etc.
No music streaming and online workout classes or coaching, etc. will be available.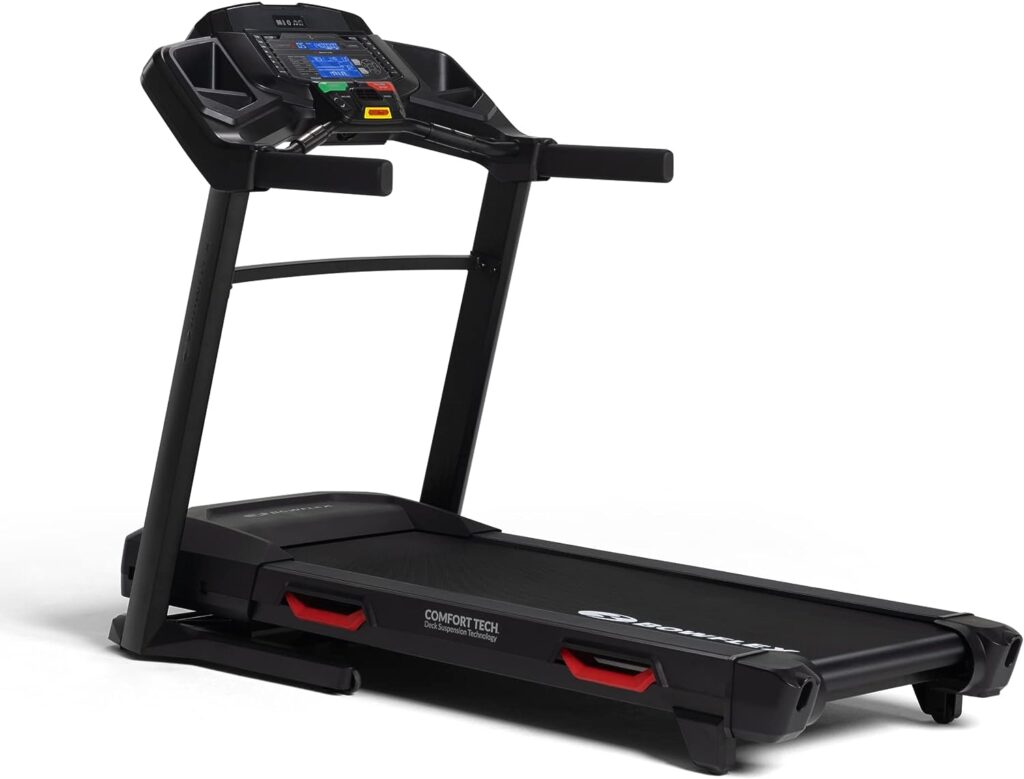 Things we a love about BXT8J BowFlex treadmill
Both walking/running on the treadmill is nicer on the 40 inch widest platform.
The deck feels very comfortable to the joints and knees even at the fastest running speed.
The incline/decline transitions are smooth. Nothing unstable encountered.
BXT8J Bowflex treadmill is not really loud.
The handle grips are very useful for elderly people and beginners. They are very smartly placed.
The belt is not cheaply made. It feels strong and smooth. It bounces while walking/running but there isn't too much bounce. Just make sure to use this treadmill only if you are below 300 pounds weight.
What should I look for when buying a treadmill under $1500?
Consider factors like motor power, running surface size, cushioning, available workout programs, incline options, and additional features like heart rate monitoring and connectivity options.
Conclusion: Best Treadmill Under $1500
Investing in a treadmill under $1500 doesn't mean compromising on quality or features. The BowFlex model (BTX8J) mentioned above offers a perfect blend of affordability, performance, and innovative features.
With a substantial incline range and engaging JRNY integration, it offers versatile training options. This extra long treadmill with a high-definition LCD display and built-in speakers adds an extra layer of convenience.
It is a solid foundation for achieving your fitness goals without breaking the bank. So, take the first step towards a healthier lifestyle with the BowFlex BXT8J Treadmill! Click here to buy.