Let's talk about Two of the best GoPro for cycling that's on the market! We are talking about the newest GoPro, The GoPro Hero9, and The GoPro Hero8.
They offer features specifically designed to enhance your biking experience including voice commands, GPS location tracking, and super smooth video recording capabilities that eliminate the bumpy ride of your bike while making you appear like an actual pro cyclist on video.
These GoPro action cameras have all the features you would want in a cycling camera and it's really easy to use them too! They both are Budget cycling cameras and worth every penny.
The Best GoPro For Cycling
| | | | |
| --- | --- | --- | --- |
| Top Pick | | GoPro Hero8 - Best Action Camera For Cycling | |
| Best Deal | | GoPro Hero9 Cycling Camera | |
Many different types of GoPro cameras exist, and we've found that GoPro 8 and 9 are the 2 models that stand out above the rest when it comes to capturing video while cycling. We will look at these models in detail and tell why they are the best options for cyclists for recording their rides.
Have a Look At them in detail.
1. GoPro Hero8 – Best Action Camera For Cycling
Brand – GoPro Color – Black Video Resolution – 4K, 2.7k, 1440p and 1080p Connectivity – Bluetooth/Wifi Waterproof Design – Yes(33ft) Optical Zoom – 1x LiveStream – 1080p
Pros
The image stabilization is phenomenal
Connect it to external microphone using mic adaptor
Reduced Blurriness with improved HDR
Even take photos with GoPro 8 – 12MP Photos
HyperSmooth 2.0 Boosts video smoothness
Colors are vibrant and smooth
Very cheap action camera with no overheating issues
Cons
Doesn't Comes with SD Card
GoPro Hero8 – Battery Life
The camera features a 1220 mAh, 4.40V battery that can deliver roughly 60 to 70 minutes of recording time if used with 1080p mode. But at the highest quality (4K), the battery will not stand for long. So it is better to take more batteries with you in your pocket.
Replacing the battery takes less than 10 seconds. But remember Go Pro hero 8 comes with one battery only. While recording the battery will not charge, it will only charge once the recording is stopped. But this action camera charges really fast.
While it's not as much as some of its competitors, it's definitely better than other GoPros in general as it has an updated battery. So the battery life depends on video resolution, 4k videos will consume more battery and space. Whereas, 1080p is the best to save battery.
GoPro Hero8 – Video capture Resolution
GoPro hero 8 comes with 4K(30/60), 2.7k(40/120), 1440p(60/120) and 1080p(60/120/240) stunning video shooting Resolution. The Hypersmooth 2.0 version image stabilizer is pretty smooth. It stabilizes the video very well while shooting. Once videos are captured, move them to your phone or any device using the GoPro app.
It also has improved the High dynamic range that makes video details come out better with less noise in shadows and highlights. In case, you want to shoot 4k videos then you need a big storage microSD card. Overall, This budget action camera takes sharp and clear videos. This is why it is one of the best GoPro for cycling.
GoPro Hero8 Cycling Camera – Zoom & features
GoPro Hero8 Cycling Camera comes with lots of features. Its HDR is very much improved that offers details in low light. So basically we can say that it is also a low-light secure camera. Do live streaming at 1080p on youtube and more social media.
The lens is as good as the design. It handles the impact very well. With three levels of stabilization, Gopro 8 video capturing is much smoother now. Plus, you can use its time-lapse feature to shoot steady footage even when you're moving at high speeds.
With the live burst feature, it is possible to record videos before and after 1.5 seconds. There is also a wind noise reduction feature to make noise-free videos.
GPS is also there to track location and lastly, there is a zoom feature. The camera zooms video up to 1x. But still, the zoom could have been better.
2. GoPro Hero9 Cycling Camera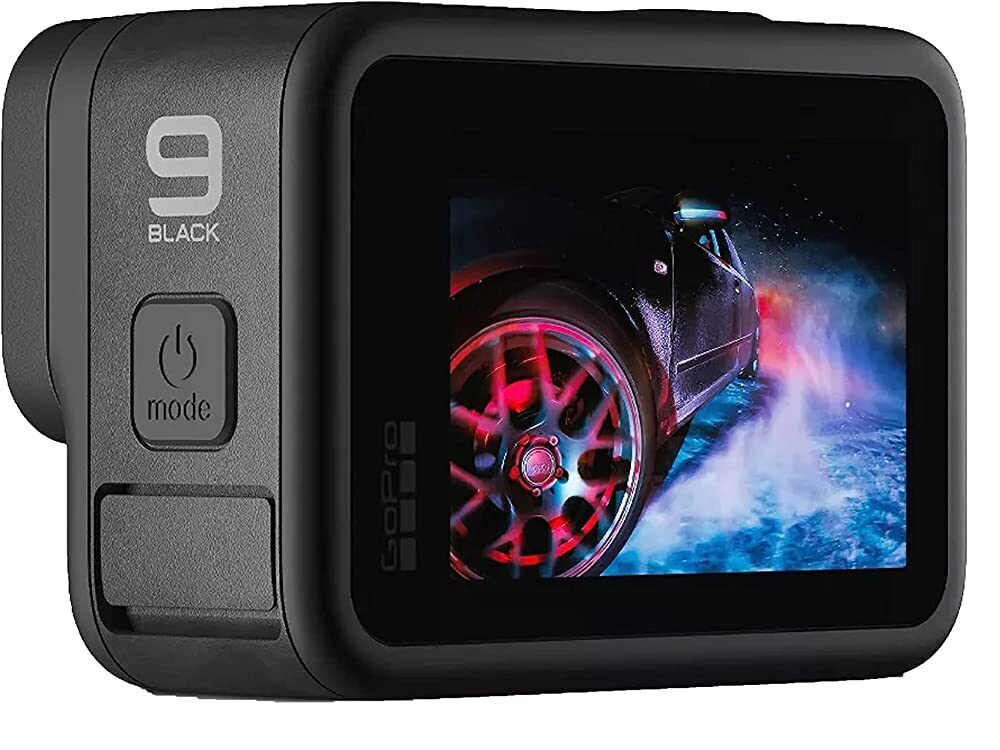 Brand – GoPro Color – Black Video Resolution – 5K and more Connectivity – Bluetooth/Wifi Waterproof Design – Yes(33ft) Optical Zoom – 8x LiveStream – 1080p
Pros
Shoot videos up to 5K resolution
2 Displays – Front and rear with touchscreen
Larger and more powerful battery
HYPERSMOOTH 3.0 for ultimate stabilization and smoothness
8x slow motion with 1080p240 video mode
Ability to handle 256 and 512 MicroSD card
Shoots Crisp and clear video
Cons
Doesn't Comes with SD Card
GoPro Hero 9 – Battery Life
The camera features a 1720mAh battery, the large battery in any GoPro action camera. A bigger battery means bigger battery life. GoPro claims that this 9 model has 30% better battery life compared to its previous models.
The 5K video shooting eats the battery pretty fast which is why it is better to buy some extra batteries. The battery lasts a few hours and as we move to 2.7k or 1080p resolution, the GoPro hero 9 battery lasts between 5 to 7 hours.
So the battery life is definitely increased, thanks to the efforts of GoPro.
GoPro Hero 9 – Video Resolution/Videography
So is the GoPro Hero 9 camera for videography? The answer is yes, shoot movies and do videography with this ultra-high 5K resolution camera. Also, do the videography underwater without any problem. But remember to insulate the battery before going underwater.
One of the best things about this action camera is that it starts shooting video 30 seconds before pressing the video record button. Now even this GoPro model has a night mode and it performs great in low light as well.
Doing videography on a cycle or a bike is very easy with this budget cycling camera.
GoPro Hero 9 – Features
Moving to the features of the GoPro 9 camera, some of the features are the same as GoPro 8 but they are improved. For example, now it is possible to zoom up to 8 times and stabilization is better than ever with version 3.0 of Hypersmooth.
The hindsight feature will never let you miss your precious moment. Without even pressing the record button, it will record your moments before 30 seconds.
The screen is larger, the video quality is better and event the battery life is boosted by 30%. So what are you waiting for? GoPro hero 9 is worth every penny. Best GoPro for cycling for a reason.
FAQ
Does the GoPro come with an SD card?
Neither the Go Pro 8 nor the Go pro 9 Comes with SD Card. You need to purchase the micro SD card separately. For GoPro 8, 128 GB is enough but for Gopro 9, 256 or 512GB card is suitable.
GoPro has an internal memory or not?
GoPro has no internal memory. The MicroSD card is required to store photos and videos.
How to charge the GoPro cycling camera?
GoPro comes with a USB charging cable. Use a wall plug/adaptor or you can also use an iPhone charger to charge the Cycling camera. Just connect your Gopro to a USB cable to charge it.
Can GoPro record while charging?
No, it is not possible to charge and record the video at the same time. Either stop recording to charge it or stop charging GoPro to record a video.
Do I need to upgrade My GoPro hero 8 to Gopro 9?
Upgrading totally depends on you. The GoPro hero9 has lots of improvements in features. but you also have to spend more. But we can't deny that Go Pro 8 is also one of the best GoPro for cycling.
Is GoPro 8 Is the Best Budget Action Camera?
Yes, for less than $300 you will get a GoPro hero8 action camera. Like Dashcam, It is a budget-friendly and best-selling GoPro.
Can I Use GoPro As A WebCam?
Yes, The GoPro HERO camera can be used as a webcam.
Which GoPro is best for cycling?
If you're looking to capture your cycling adventures on camera, it can be difficult to know which one is best. Because GoPros are so popular, there are a lot of different models that offer unique features.
There's no right or wrong way to use your camera, but if you want an easy-to-use model that offers some of everything—and is built specifically for cyclists—the Hero8 Black is a good place to start.
It comes with everything you need in a single package and allows you to record great videos in just about any situation without worrying about fiddling with settings. However, for improved options or shooting higher quality footage, there is a Gopro hero 9 camera that might better suit your needs. It's every upgrade made some serious improvements
Final Words
No matter what you're filming, you can't go wrong with a GoPro. The camera is so popular that there are hundreds of blogs and articles listing their favorite options. For cyclists, GoPro hero 8 and 9 models will be worth investing in.
And unlike some cameras, GoPros have built-in Wi-Fi and Bluetooth capabilities, so you can quickly send photos and videos to your phone or watch them remotely using an app. Overall, if you ride frequently and want a high-quality shot of yourself in action (or want to film scenic shots without lugging around multiple cameras), it's worth investing in a GoPro.