Mini billiards tables are the best choice for a home. They are not big in size, occupy less space, and are a great source of entertainment for free time. The mini pool table range in length from 4 feet to 6.3 feet.
Slate is the popular and the best material for playing top of large pool tables. No temperature variations and humidity affect the Slate Playing surface. But slate weighs and costs more compared to the materials like MDF and Plywood. When it comes to the mini or small billiards tables, mainly MDF or plywood is used as the playing surface.
The plywood, MDF, and slate materials are further covered by the felt. The felt is applied to make the cue ball run smoothly. Woolen cloth is the most common type of felt used.
Best Mini Billiards Table
These 4 mini billiards tables are portable, foldable, and space-saving. Their base material is MDF or plywood like office desks and their frame material is alloy steel. Their table size is perfect for kids, adults, or anyone to learn the game at home. Also, Transport them from one room to another with ease.
Now we will review these small billiards tables in detail.
1. SereneLife F

oldable Billiards Table (6FT)
Brand – SereneLife | Color – Black | Surface Material – MDF | Leg Material – Steel | Frame Material – Alloy Steel | Balls Diameter – 2.25" | Cues Length: 57" | Pool Table Thickness: 1/2" |  Dimension – 76" x 43" x 31.8"
Pros
Levelled folding table legs and adjustable feet.
Has Locking leg safety mechanism underneath the table.
Welded Steel Support and Wider leg brace.
Cons
Little Heavy and fabric require too much care.
Good Quality
Moving Serenelife foldable billiards table from one place to another is difficult. But it shows the quality of the table and its great finishing. Even the quality of the balls is excellent and they bounce on the surface pretty well. The cue sticks are made of wood and feel good in the hand.
In Box Things
This pool table comes with some of the accessories. A set of 2.25 inches billiard balls is included in the box with one ball triangle. Then there are 2 cue sticks and 2 chalk pieces inside. Lastly, you will get one billiard brush to clean the billiards table.
5 Minutes Assembly
Serenelife mini billiards table comes all packed and already assembled. Take it out of the box and remove the packaging first. Then it will take just 5 minutes to assemble the table.
2.
GoSports M

ini Pool Table (6FT)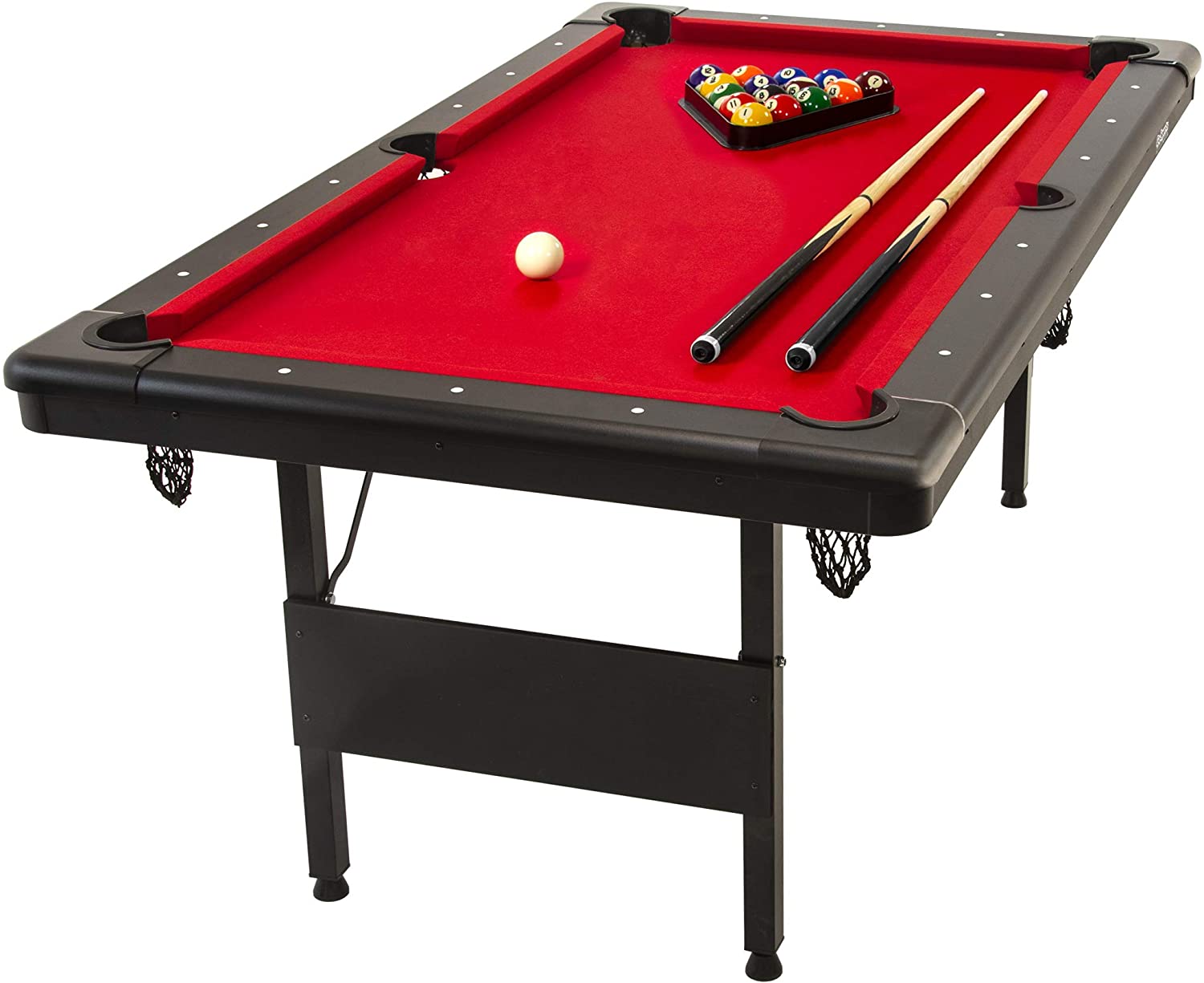 Brand –  GoSports | Color – Red/Blue/Black | Surface Material – MDF | Leg Material – Steel | Frame Material – Alloy Steel | Balls Circumference/Diameter –  7.25"/2.25″ | Cues Length: 57" | Pool Table Thickness: 7/8" |  Dimension – 76" x 43" x 31"
Pros
2 metal beams in Centre underneath the table to hold the weight.
Felt surface is premium and will not wear over time.
Adjustable levelers on each leg.
Cons
Premium Felt
The Premium bouncy felt surface on the MDF top improves the ball movement. The Pool table's Premium Felt makes the rolling of the ball smooth and Straight. The Felt looks clearer not just in the full light room but also in the low light room.
Quality Pockets
GoSports Mini pool table comes in 2 sizes. One in 6ft and the other is 7ft.  7 feet table comes in a large category but the pocket size of both tables are almost identical. Their quality pockets can hold a lot of balls. Maximum 9 to 10 balls.
Average Cue Sticks
GoSports billiards table comes with 2 cue sticks. But the quality of the sticks is average. The 57″ long sticks are perfect for kids to play with. For Adults, it is better to order good quality sticks. Cue sticks that come with it are not horrible, they are just average.
Accessories
Like any other billiards table, you will get a box full of accessories on purchasing GoSports mini pool table. 15  balls and a ball rack, 2 cue sticks, 2 chalk, and a felt brush are included in the box.
3.
Hathaway P

ortable Pool Table (6FT)
Brand –  Hathaway | Color – Red/Blue | Surface Material – MDF | Leg Material – Steel | Frame Material – Alloy Steel | Balls Diameter –  2.25″ | Cues Length: 48" | Pool Table Thickness: 1/2" |  Dimension – 76" x 43.25" x 32"
Pros
Chrome-plated corner castings with rope web pockets.

High-Quality Blended Wool Felt.

The aluminum bar at the center keeps the surface straight.
The Felt is thick and marks very easily.
Cons
Bumpers are not that bouncy.
Cheap Cue sticks.
Never Wobble
The Hathaway portable mini table is very Sturdy. Its rock-solid frame and legs are made of steel. Level the table accordingly with plastic levelers on the leg and it will not wobble like most cheap pool tables. If there is a slope on the one side of the table it means the table is not leveled properly.
MDF Wood
Its playing surface is made of MDF wood and it is obvious that its surface is not smooth as a slate table. But still, its MDF surface is able to roll the ball quite smoothly. Without spending $2000 on the slate billiards table, you will get tournament-quality play with MDF wood.
Fits Anywhere
It is true that the table fits anywhere even in the tighter places. The cue sticks are also small which is why it is very easy to play on the table in tight spaces. Spin the small stick in any direction if the cue sticks suit your need. It is also true that the sticks are very cheap quality. Overall, this mini billiards table is very portable and small.
4.
Rack Leo P

ool Table For Kids (4FT)
Brand –  Rack Leo | Color – Green+Black/Blue | Surface Material – MDF | Leg Material – Steel | Frame Material – Alloy Steel | Balls Diameter –  1.5″ | Cues Length: 42" | Pool Table Thickness: 1/2" |  Dimension – 47″L X 25″W X 27″H
Pros
Bouncy rubber bumper cushions.
Smooth Velvet Felt and rock-solid stability.
Very cheap and beginner-friendly.
Foldable design requires no assembly.
Cons
Very small in size
Made for kids only.
Not Heavy
Rack Leo is the miniature billiards table on our list. It is not just cheapest and smaller in size, also not very heavy. Even one adult or a child can carry this table anywhere with ease. It is the Most portable pool table, take it on a picnic or trip and enjoy the game with the family. 
A+ Quality
Even though the table is very low in height and small, it is very well made. The Felt is smooth, cue sticks are strong and even the balls are very solid. Also, the leg locks are pretty solid. The table is crafted very well and looks premium to the eyes.
Worth the Money
Rack Leo is a pool table for kids and worth spending money on like hoverboards. It is smaller than the normal pool size and it folds/unfolds without any hassle. Storage will never be a problem. Store it under the bed or anywhere and it weighs just 44 pounds. Great mini Billiards to spend time with family.
FAQ
Things To look for when buying a pool table?
First, decide which size will fit well in your room, garage, or anywhere you wanna place it. Then pick a material, whether you want MDF or slate play surface. After that look for the quality of felt, balls, cue sticks, and table legs.
How Much is a Billiard table?
The price of a billiard table depends on its size and quality. Our article is about mini billiards table and their price range is $150 to $700. The large pool table is costly and costs up to $5000.
How big is a billiards table?
The billiards table can be big enough up to 9 feet or 108 inches. The average size of the billiards table is 6 to 8 feet.
How to Move Billiards table?
Please note that never try to move Billiards table on its own. Moving any pool table requires at least 2 people. If the legs are foldable, simply fold them and lift the table from both ends. Slowly walk together to take it safely inside the room. If the table is not foldable moving it requires a bit more people. Lift the table from all 4 edges at once.