Title: M2 MacBook Air for College Students
The new M2 MacBook Air was launched at June's Apple Event and now it is available to purchase online. In this new MacBook air version, everything is new. The big changes are in design, display, processor, and webcam, which we will talk about later in this article.
It is the second MacBook that comes with the new M2 chip after the M2 MacBook Pro. The M2 chip definitely overpowers the M1 Chip. But not the M1 Pro and M1 max Chip models of last year's 14-inch and 16 -inch MacBook Pro.
So, if you are using a MacBook that contains M1 chip or lower version chip and you want to upgrade your MacBook then go through this review. In review, we will cover everything best about the M2 MacBook Air for college students along with its downsides.
M2 MacBook Air for college Students
The new MacBook air M2 chip is great apple laptop with a better performance over the previous model. Not just doing normal stuff like web surfing, everyday work, photo editing, zoom calling, is improved on the M2 MacBook air but also working on the heavy-duty stuff is improved.
Below we list everything about the M2 MacBook Air for college.
1. M2 Chip & Performance: M2 MacBook Air 13-inch
With the 18% faster CPU and 35% faster GPU, M2 chip delivers a great performance. Multiple tabs and powerful apps are going to run smoothly without any doubt. The M2 Chip makes multitasking a lot easier now.
But its fan-less design does impact performance a bit. The GeekBench single core CPU score of M2 air is 1899 and its multicore CPU score is 8865 which is lower than the M2 MacBook Pro GeekBench Scores. It is because the M2 Pro has a fan and M2 Air doesn't.
No fan in the M2 air does slow the performance but not that much. But if you are a heavy editor, you will notice M2 Air bottom is little warm.
M2 air is a great laptop for productivity, browsing, video calls, vlogging, watching TV shows and movies, etc. Its performance is not going to disappoint you even if you spend all day on this laptop.
Other than that, M2 Chip MacBook Air base model comes in 8-Core CPU and 8-GPU. As we go higher in price the GPU increases by 2-Cores.
2. Design, Display, and Colors: M2 MacBook Air for college
M2 MacBook Air 13-inch is the ultimate thin and light laptop. Its body is aluminum and it is totally flat from the bottom. The bezels are thin but there is notch which does looks ugly.
The display is bigger, it is now 13.6-inch retina with a max brightness of 500 nits. The colors are good and the display is very bright but it is not pro motion and still a 60 Hz.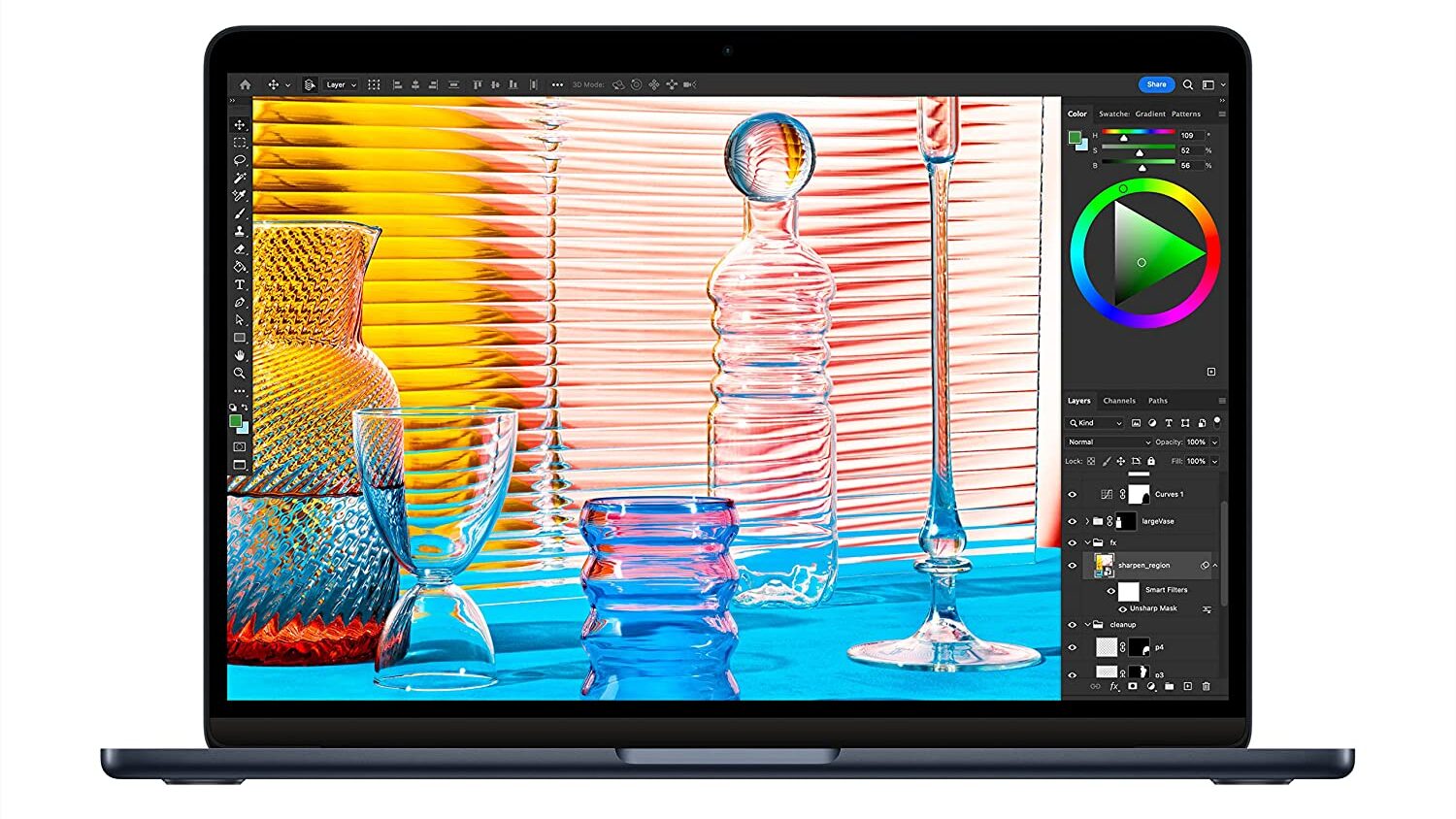 The M2 MacBook Air is limited to only one external display of up to 6K resolution that means you can add only one external display to it. The bezels around the M2 MacBook Air for college are thin but not thin like the MacBook Pro.
Talking about the colors, it is available in 4 colors: Space grey, Sliver, midnight, and starlight. The most beautiful one is midnight. It looks kind of bluish and not completely black. But you are going to notice fingerprints on midnight color MacBook Air M2.
Overall, it has a great design, color, display, and body. No need to worry about the fingerprints that much.
3. Webcam, Speakers & Keyboard: M2 Chip MacBook Air
The important upgrade is a webcam. The previous 720p Webcam is now upgraded to 1080p. With high resolution it is sharper and more detailed. The face looks more natural now rather than yellowish tone. Also, with the new macOS venture, you can now use your iPhone webcam on your MacBook.
The speakers in the MacBook Air M2 are integrated between keyboard and the display. The 4-speaker sound system with the support of Spatial Audio makes the sound crystal clear. The sound doesn't feel echoey and hollow.
The M2 Air keyboard blows the old keyboards out of the competition. Now the keyboard is much more spacious and feels great while typing. And it has a fingerprint sensor button on the top right corner.
4. Battery Life and charging: M2 MacBook Air for students
The battery life is very good. For heavy-duty work, the MacBook air M2 chip can run up to 5 hours max. And for normal stuff like browsing, everyday work, etc. It has a standby time of 11 hours.
But its battery life is less as compared to M2 MacBook Pro. And this is all due to the lack of a fan. The battery life and performance improve with the presence of the inbuilt fan.
On the other hand, M2 Air MacBook Comes with 35W and 67W chargers. The 67W charger charges fast for the M2 Air in about 30 minutes as compared to 60 minutes with 35W charger.
Now charge your apple Air M2 laptop with the Mag safe. The benefit of using Mag safe is that the 2 thunderbolt 4 ports will be free for data transfer and connecting accessories.
5. Storage and price: M2 MacBook Air for college students
The storage space of 13-inch M2 MacBook air starts from 256GB and is expandable up to 2TB. If you are purchasing a base model, it is better to go for 512GB storage space.
The 3 available unified memories are 8GB, 16GB, and 24GB. For gaming, high-end tasks it is better to go for 24GB RAM.
On the other hand, the starting price of base model is $1199 and as the storage and RAM increases the price goes up.
Final Thoughts: M2 MacBook Air for College Students
Honestly, if you are looking for just a thin and light laptop for everyday work, the M2 MacBook Air is the best choice for college students. But it is not as powerful as the MacBook Pro models.
It is a laptop which has the potential to take the place of your current laptop. Those who don't have lot of storage needs can go for m2 air base model.
The MacBook Air M2 is a fresh new apple laptop with new design and lots of new features unlike the new M2 MacBook Pro. It is a great upgrade and is not going to disappoint you at any point. This laptop is worth buying for students even though it costs $200 more than the M1 MacBook Air. Click here to Buy.
Also Read