Working out on your treadmill can be one of the best ways to burn calories, knee pain, and lose weight, especially when you have limited time to work out. Weslo Treadmills are some of the most affordable treadmills on the market, so it's easy to find one that fits within your budget without sacrificing quality or features.
Take a look at this Weslo treadmill Cadence G 5.9i electric treadmill to see what this model has to offer as an option for your home gym setup or as part of your larger fitness routine. You'll love how quickly you start losing weight with this great machine!
Best Weslo Treadmill: Weslo Treadmill Cadence G 5.9i Review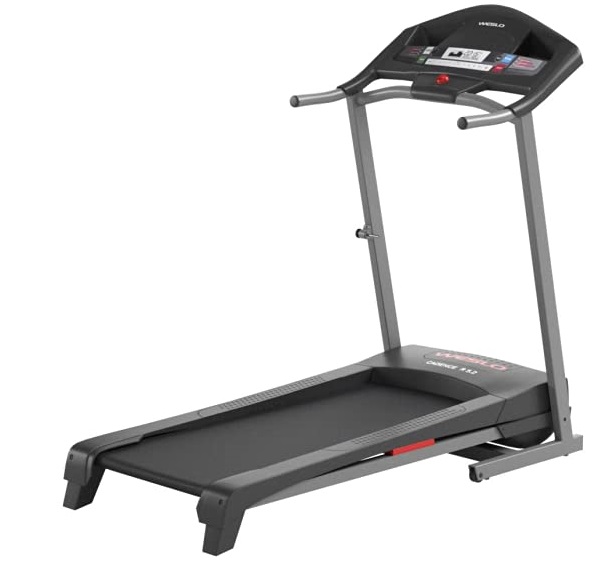 Brand – Weslo Color – Black+Sliver Speed – 10 MPH Weight Capacity – 275 Pounds Deck – 16" x 50" iFIT Enabled – Yes Dimension – 64.5 x 29 x 55.5 inches Treadmill Weight – 118 Pounds Incline – 2 Position Manual Model – Weslo Cadence G 5.9i
Pros
Treadmill counts calories, heart rate, etc
Use treadmill with or without iFit Subscription
Great For Walking, jogging, and running
Walking Belt is already Coated with lubricant
It is a lightweight Foldable electric treadmill
Cons
Little Noisy
No Backlit Display
Weslo iFit Treadmill – Special Features of Weslo Treadmill Cadence G 5.9i
iFit members will have access to 16000 plus Workouts
Powerful 2.25 HP impulse motor
3 incline percentages – 4.16 degrees, 2.66degrees, and 1.38 degrees
Space-saving design and very easy to put together
22" W x 6" H Tablet holder
Starting A Weslo Treadmill Cadence G 5.9i
Even when you're using a treadmill regularly, it can be difficult to remember everything you need to do to start one. Before starting, you need to make sure that your belt is lined up with your track.
Begin by setting up your Weslo Cadence treadmill in an area where you can walk back and forth without interruption and in a place where it won't be easily knocked over accidentally.
It's also a good idea to set up your exercise equipment on a hard, flat surface like wood or concrete so that there will be no risk of slipping while you use it.
How to Start a Weslo Electric treadmill Cadence G 5.9i?
To start a Weslo G 5.9i iFit treadmill press the green start button on the left side. But by just hitting the start button, it won't start. You need to hold down the blue Bluetooth button on the right side for about 25 to 30 seconds to turn on the Weslo treadmill.
G 5.9i Weslo treadmill will force you to activate it through iFit's website. And if you Don't want an iFit subscription, you can skip it by simply pressing the Bluetooth button for about 25 to 30 seconds and the treadmill will start.
Weslo Cadence G 5.9i Incline
This Weslo cadence treadmill has a manual incline feature instead of an auto incline. Use its 2- position adjustable incline feature to your advantage for getting on track with your weight loss goals.
It also comes at an affordable price which makes it a popular choice among many people who are looking to lose weight. The incline feature also helps in building better muscles if used correctly in conjunction with other fitness programs.
The belt is made from high-quality material that provides great durability and functionality along with better support and reliability. Overall, it's worth considering if you are looking for an affordable way to lose weight.
Its incline is not the greatest but good for everyday home workouts.
How To Incline a Weslo Cadence Treadmill G 5.9i?
To incline a Weslo ifit treadmill, such as a Cadence G 5.9i, you'll need to fold up your treadmill's legs. Raising your Weslo treadmill's incline while walking on an inclined surface gives you more resistance and therefore burns more calories than walking on a flat surface.
You can change your machine's incline level by putting the back legs down. Its three incline percentages are 4.16 degrees, 2.66degrees, and 1.38 degrees. The forward hole provides the least incline and the third hole provide the most incline.
It is a flat-folding treadmill and you can adjust its height manually with ease.
How To Fold/Unfold A Weslo Treadmill Cadence G 5.9i?
When it comes to folding a Weslo Cadence G 5.9i treadmill, there is nothing difficult about it. To fold it back up after use, simply pull on one end and then push that end on the other until everything locks into place. It can be folded up in less than a minute.
Remember, installing the lock that holds the machine straight up in the folding position is a little tricky. Sometimes screw doesn't fit up properly. So, it is better to read the manual before folding and unfolding this Weslo treadmill. Once folded properly, it saves lots of space.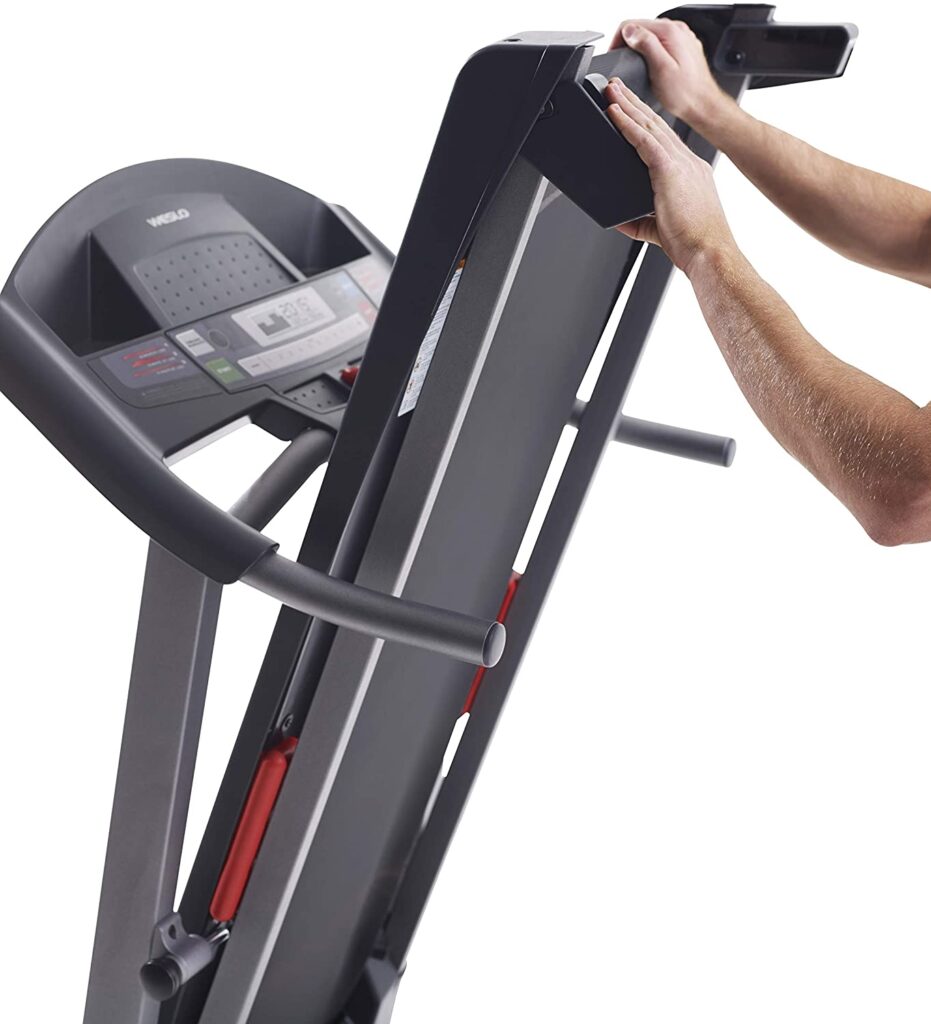 This process requires no specific knowledge or experience, but to know exactly how to fold/unfold your treadmill, consult the owner's manual or watch any online videos that demonstrate how to perform these actions properly.
Resetting A Weslo Folding Treadmill: Cadence G 5.9i
To reset a Weslo treadmill, press and hold on the Bluetooth button (the button is located on the top right side) for about 20 to 30 seconds until all of the lights come back on and stay on.
Keep holding the button down until all of your settings have reset.
Why is there a need to reset the treadmill?
To skip the iFit subscription you need to reset the Weslo folding treadmill.
If the Weslo electric treadmill screen hangs then you will need to reset the treadmill.
Why Choose Weslo Treadmill Cadence G 5.9i? Is it Good?
The Weslo Cadence treadmill G 5.9i was designed with weight loss in mind. The belt measures 16 inches in width, providing plenty of room to walk, jog or run while your upper body remains stationary. With a foldable manual incline with 2 options and speed up to 10 mph, the workout is challenging but not overwhelming.
It is an iFit treadmill that gives access to intense studio workouts that helps in burning calories fast. You won't have to worry about storage since Weslo treadmills fold up neatly. For these reasons and more, Weslo is one of our favorite treadmills for weight loss.
Recommended Accessories – Weslo Cadence Treadmill
Purchasing a treadmill is easy but maintaining a treadmill for the long term is very difficult. So, we are recommending some of the accessories that will improve the age of the treadmill.
1. Treadmill Belt Lubricant
Keeping your treadmill's belt lubricated can prevent it from wearing out, keep it running smoothly and prolong its life. One of the most important things you can do when using a treadmill is to make sure that your belt is kept properly lubricated. This will help to extend its useful life and save you money on maintenance costs over time.
2. Treadmill Exercise Bike Equipment Mat
If you're looking to get in shape and lose weight, then you need to invest in a quality treadmill mat. These mats are specially designed to protect your floors from water and sweat that can drip off your body while you run on a treadmill. Investing in a mat will help extend the life of your home gym equipment and protect your floors from becoming stained by sweat or small leaks.
Final Thoughts
Some people get on a treadmill to lose weight, but they should be doing it differently. The right approach is to train your body and metabolism, not try to burn as many calories as possible in one shot. And remember that training doesn't have to be an hour-long ordeal. A quick run or jog can do wonders for your fitness levels—and also help you shed some extra pounds.
Weslo Cadence G 5.9i treadmill is the most affordable long-lasting treadmill to lose weight. And it is the best deal to grab this year. It has a folding design, making it very easy to assemble without sacrificing quality or durability. The Weslo Cadence G 5.9i treadmill also comes with a console that tracks your speed, distance, time, and calories burned, plus Heart rate sensors so you can track your heart rate as well!